Helicopter B3 - groups of 4 people plus the mountain guide.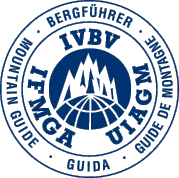 The mountain guides, with whom we have been working for many years, are qualified and highly experienced: they know and understand the heliskiing activity and the territory of "Valle d'Aosta", especially the Valgrisenche area. They are constantly in radio contact with the helicopter and the base.

GETTING IN AND OUT OF THE HELICOPTER
Danger zones:
1. principal rotor;
2. back rotor;
3. the air blast of the helicopter.
How to approach a helicopter with a working rotor:

1. On flat ground: from the front or from the left side (the door side), bending down;
2. If the helicopter is on a slope, lower your head and approach from the side at the level of the door;
3. Take your skis off as near as possible to the helicopter;
4. Carry your skis by the tips, dragging the tails of the skis in the snow;
5. Attach everything that might fly away (gloves, caps, glasses, etc);
6. Tightly fasten skis and poles together before entering the helicopter.
Going in the helicopter:
1. Stay together and crouch down in the snow;
2. Attach everything that might fly away (gloves, caps, glasses, etc);
3. Sit at the back of the helicopter in order to leave space for those following behind.
Getting out of the helicopter:
1. The guide will unload the material first;
2. because of the air blast of the helicopter, get dressed warmly before getting out;
3. Tightly fasten everything that might fly away;
4. Stay close to the helicopter, crouching down and making space for those who follow you, always looking at your guide;
5. Remain crouched down in the snow until the helicopter leaves;
6. Wait for your guide's permission before moving or taking your skis (cornices)
AVALANCHE PROTECTION
Each skier will be equipped with an Air-Bag backpack that, in case of avalanche, inflates by pyrotechnic trigger. This system allows the skier to stay on the surface, the airbag is triggered by pulling on a handle; this backpack also contains a probe and a shovel.
Each skier will also be equipped with a system for detecting people in case of avalanche, such as transceiver or equivalent.
Instructions on how to use your safety equipment will be provided before departure by one of our guides.